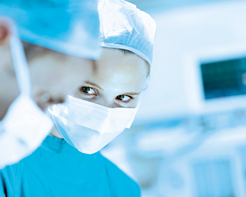 Our services include:
• Quality management support
• System development
• Clinical evaluation
• Medical device software specialist services
• Regulated software validation
• Quality and regulatory consulting
• Training
• European Authorized Representation
2-day course in Malmö, 23 – 24 January 2020.
Risk Management for medical devices
An efficient system for product risk management is central for a medical device company. This basic course in risk management will give you a complete walk-through of risk management as applied to medical devices and in-vitro medical devices.
You will learn about key risk management concepts and get an overview of the process steps involved, according to the new ISO 14971:2019. You will also learn how risk management practices should be applied throughout a product's entire life cycle and how it relates to other processes within a quality management system.
We will highlight specific regulatory requirements that apply to risk management and give you an insight into the increased regulatory focus on risk management in MDR and IVDR.
With hands-on exercises, group discussions and examples, this course will provide the knowledge and skills you need to understand and perform each step of the risk management process. The practical part of the course includes an overview of the most common tools used for risk analysis, best practices for documenting results, and how to ensure traceability.
Topics
Requirements according to ISO 14971:2019
Regulatory compliance requirements according to MDR/IVDR
Key risk management concepts and definitions
Risk management process (risk analysis, risk evaluation, risk control, overall residual risk evaluation, benefit–risk analysis, risk management review)
Production and post-production activities
Methods and tools for risk analysis
Elements of risk management plan, report, file and traceability
Integration of risk management into a product's life cycle and quality management systems
Course Material
The printed course material is in English.
Target Group
Personnel performing or participating in risk management activities for medical devices, who need to learn the basics of risk management.
Personnel who need to refresh their basic knowledge within risk management.
Need of prior Knowledge/Experience
We recommend that participants are familiar with quality systems requirements for medical devices according to ISO 13485.
Course Goal
To provide you with the knowledge and skills you need to be able to understand and perform each step of the risk management process.
To provide you with the tools needed for establishing and maintaining a well working risk management process, integrating it with your organization's quality management system.
Date and Location:
23 – 24 january 2020, Radisson Blu, Östergatan 10, 211 25 Malmö
Course Leader/s
Cristina Barkman, Senior Quality and Regulatory Consultant
Maria Rickardsson, Senior Quality and Regulatory Consultant
Price and registration
Course fee 11 400 SEK, excl. local VAT (moms). Price includes printed course material, short test, training certificate, lunch and coffees. An invoice will be sent 2 weeks before course date. For group registrations, the 2nd and 3rd persons from the same company will receive a 10% discount. For 4th and additional persons, a 20% discount will be applied.
Registration
Register by e-mail to academy@qadvis.com.
Please specify:
• Name
• E-mail
• Title/position
• Company
• Invoice address
• Any food related allergies
Registration will be valid upon returned confirmation by QAdvis.
Terms
Cancellations must always be communicated to Academy@qadvis.com and confirmed by us. Cancellations made more than 4 weeks before the starting date are free of charge. Cancellations made 4–2 weeks before the starting date of the event will be refunded by 50%. Cancellations made less than 2 weeks before the starting date of an event will not be refunded. If you are unable to attend, substitution with a colleague is possible and recommended.
QAdvis reserves the right to cancel the course due to low attendance, up until 2 weeks before the course start. You can contact us at any time to get a status update. If the course is cancelled, a full course fee refund will be offered, but no additional reimbursements. We reserve the right to change the agenda, time and location, up until 2 weeks before the course.
Force majeure
QAdvis reserves the right to change teachers or reschedule the course due to force majeure or due to teacher's illness. No compensation will be paid for any additional costs incurred.